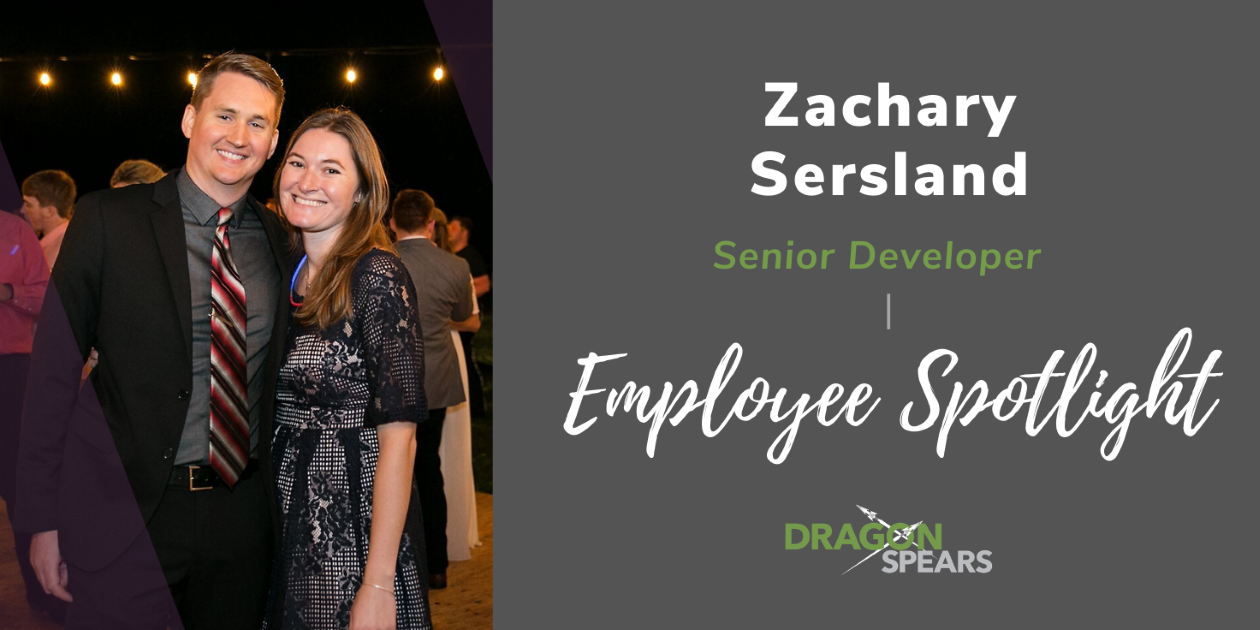 DragonSpears' Employee Spotlight series highlights a different employee every month, offering an inside look into our company culture and the talented individuals who work here. This time, we're chatting with Zachary Sersland, one of our senior developers. Zach, known to his clients as "Z-man", is a loyal Dragon Slayer and has been with the company for over four years now.
Zach graduated from Northwestern University with a degree in computer science. He is a certified AWS Associate Solutions Architect (you can check out some of his blogs on AWS here) and a Microsoft Certified Solutions Developer.
Here's a little bit more about Zach!
What are you known for at work?
I'm known for working with Amazon Web Services (AWS) and writing ASP.NET MVC applications.
What's the one problem you are best at solving for your clients? What do your ideal clients say about you?
I'm best at working through process flow issues. I enjoy talking through processes with clients and figuring out what needs to be done, as well as all the small edge cases involved. My clients would say I deliver on time and keep track of all the tasks they throw at me.
What are you most passionate about professionally and personally?
Professionally, I'm passionate about new cloud technology and services I can take advantage of to make applications more extensible, more automated, and overall easier to use.
Personally, I'm an avid movie watcher and always up for talking about movies I've seen recently, whether that be new releases or some of the classics. My top five favorite movies are:
Lawrence of Arabia

Bridge on the River Kwai

2001: A Space Oddysey

Kill Bill: Vol. 1

Monty Python and the Holy Grail.
Where can we find you when you're not working?
On weekends, I enjoy running, cooking, or finding movies to watch. I also go to football and basketball games at Northwestern University.
What's one thing you can't live without?
I listen to a lot of podcasts that I wouldn't want to give up. My favorite is "Wait Wait... Don't Tell Me!"
Anything weird, random, or quirky that many people don't know about you?
I like to freeline skate to and from our office in Chicago in the summer. If you've never seen freeline skates, they look like a skateboard with the middle section of the board missing.
Thank you Zach! Want to find out more about what it's like to work at DragonSpears? Visit our careers page to see the roles we currently have open, and check out our blog for more information about all the great people who work here and the thought leadership they put forward!