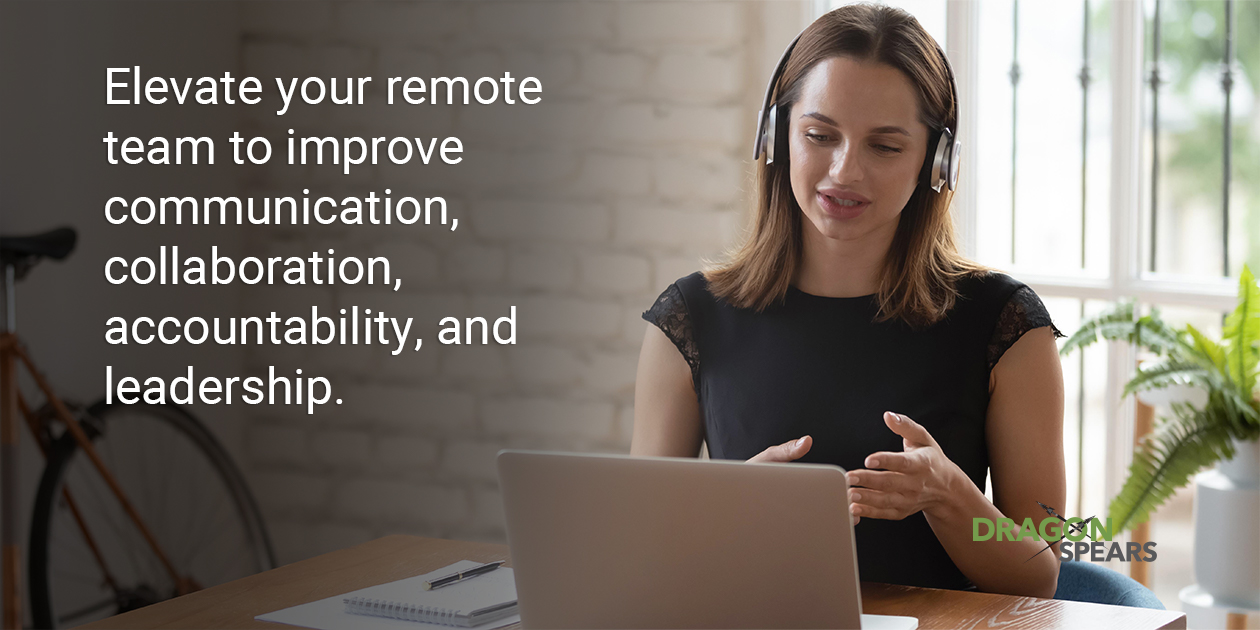 With the initial shock of a global pandemic behind us, we've had a moment to reflect on how it has impacted our teams and how we operate. We've learned a lot about ourselves and our capabilities in the past couple of years. There's been so much to adapt to. Still, one thing that's become apparent is that becoming a fully remote Agile team has created an opportunity for us to elevate our communication, accountability, collaboration, and development. At DragonSpears, we believe in having the freedom to work where we work best. Here are some tools and strategies that have allowed us to do that.
Communication
It's hard to imagine, but when we worked in an on-site or hybrid environment, our communication was not as strong as it is today. Two challenges we ran into were:
Meetings that not everyone was available to attend
Casual conversations in passing during which critical information was shared with 1 or 2 teammates but missed by other key members of a team.
An Agile system for communication is crucial for our team's momentum. Utilizing Slack has helped us keep critical conversations and key information in channels with an audience that must be in the know. Nowadays, a teammate can go on vacation, rest on a sick day, and free up time that was used for in-person meetings because they know they can get up to speed on the latest updates on their projects or within their departments via dedicated Slack channels.
You may think, "But what about the context that gets lost when Slack messages are so open to interpretation (rather, misinterpretation)?" We agree there's immense value in seeing body language and being able to ask follow-up questions without writing a novel to gain clarity. Utilizing features like huddle and sending video messages can clear the path to quick understanding.
Accountability
A common misconception about working in a remote environment can be that it's not an environment that supports a culture of accountability. We've found the opposite to be true. At DragonSpears, we've embraced tools that enable us to "work where we work best."
One such tool is Bloom Growth. Just like Slack, Bloom gives us a central platform for collaboration. We use this platform to identify, document, and tackle issues as a team, and we know we can always come back to it if we can't recall what was discussed or agreed upon. Additionally, Bloom Growth offers a consistent meeting format followed organization-wide for more productive and solution-focused meetings. To further drive accountability, it gives us a place to document and assign tasks that support the resolution of issues with a clear indication of who's accountable and when it's due.
Finally, it gives our entire team visibility into the roles that exist in our organization, what they are accountable for, and an overall Business Plan that all can see. This process ensures we are all focused on initiatives that support our organization's goals and empower us to turn vision into action.
Collaboration
As a remote organization, we must be good at collaboration. DragonSpears teammates have come up with tools and software like Mural and Lucid Charts to help with collaboration. The team uses these tools to replace the physical whiteboard in conference rooms. Team members can be very visual when presenting ideas, so just sharing a Mural and starting the process of drawing boxes with lines helps them convey what they are trying to say. It helps refine their thought process and can make all the difference. Teammates also use Lucid Charts to broadcast outside of their team and develop infrastructure diagrams to create a shared understanding.
Other ways our employees collaborate include working on documents in SharePoint simultaneously. This tool helps us see what the other is actively working on, add comments, as well as track changes. Quick messages through team channels in Slack also allow us to process issues quickly. The options are not limited, and as a team, we have learned what works best and will continue to follow the processes we currently are using.
Leadership
Working remotely has allowed us to explore virtual training for our employees. DragonSpears is committed to investing in our employee's leadership and personal career development. The leadership program we have chosen is Echelon Front. Their mission is to educate, train, mentor, and empower leaders and organizations to achieve total victory. We relate to this because we want each individual team member to be successful and grow within their roles, but also be successful as a team.
We have also developed a virtual book club internally at DragonSpears, a branch of our Diversity, Equity, and Inclusion task force. The book club members meet once a month to discuss the chapters of a book they've chosen. The questions discussed during the meetings are well thought out and facilitate meaningful discussions. Choosing books is based on diversity, equity, and inclusion. The book club has read Blindspot, How to be an Antiracist, and next up is The Loudest Duck.
We also encourage employees to pursue certifications, courses and readings that they would like to explore to develop in their roles. Overall, professional development continues to elevate our team and organization.
With every challenge comes an opportunity. Becoming a fully remote Agile team was a surprisingly smooth transition for us. It allowed us to flex our Agile muscles and embrace new tools and strategies for working together. The outcome is we have an elevated Agile team that's improved how they communicate, remain accountable, collaborate, and develop as leaders.