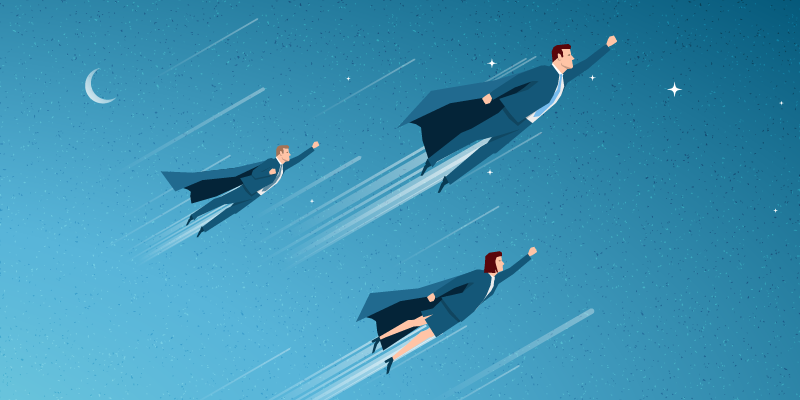 According to the Harvard Business Review, "Every business is, willingly or unwillingly, a competitor on a software playing field, no matter which sector it's in." Consequently, the overarching goal for businesses today is to leverage software in a way that increases speed to market, improves customer satisfaction, and allows you to become more responsive to customers' needs. To achieve all this, there must be a framework that supports a culture of innovation and shortens the time from identifying an opportunity or challenge to acting. This is where Agile, DevOps, and Cloud come into the picture. This article shows how each supports the other to create the perfect synergy for 99.99 software.
Agile Sets the Foundation
The Agile methodology and cross-functional teams deliver software faster and more reliably through an iterative approach to development. Involving the right people from the beginning leads to more efficient communication, transparency, and buy-in. Additionally, Agile's focus on people over process means away with ye olde requirements document. All in all, it supports better communication, shorter release cycles, and failing fast to achieve a workable product sooner.
DevOps Builds Upon Agile
DevOps further enforces collaboration to deliver applications and services at peak velocity. While Agile tears down the barrier between the Dev Team and the Business, DevOps removes obstacles between Development and Security/Operations. Within DevOps, a set of tools is defined to automate and test continuously alongside an Agile/iterative approach. The goal is to automate low-value activities and maximize high-priority work that will have the greatest impact. DevOps ultimately creates a leaner deployment process, so people are free to do work that is transformational rather than transactional, further re-enforcing the agile tenet of people over process.
Cloud Provides the Environment
Whereas Agile and DevOps can be described as a culture, Cloud can be described as the ideal environment in which they live and thrive. The goal is to create better, stronger, tougher software faster and the Cloud allows for software to be released at any time. Embracing virtualization makes it easier to deploy Agile techniques. Time and value are of the essence, and the Cloud eliminates the need to spend time on non-value add behaviors like provisioning hardware. The focus can be placed on an automated network that is repeatable. Cloud creates the opportunity to rebuild environments in minutes instead of weeks/months and makes it possible to just "buy what you need." This enables you to be more responsive to changing environments.
In conclusion, Agile, DevOps, and Cloud have a shared objective of making it possible for businesses to respond to opportunities and needs faster and are the holy trinity in the recipe for success. There is no right way to get started when it comes to creating 99.99 software: some people start with building healthy teams, some start by automating builds, and others start with virtualization. Overall, leveraging this dynamic trio can help you get a better return on your investment.