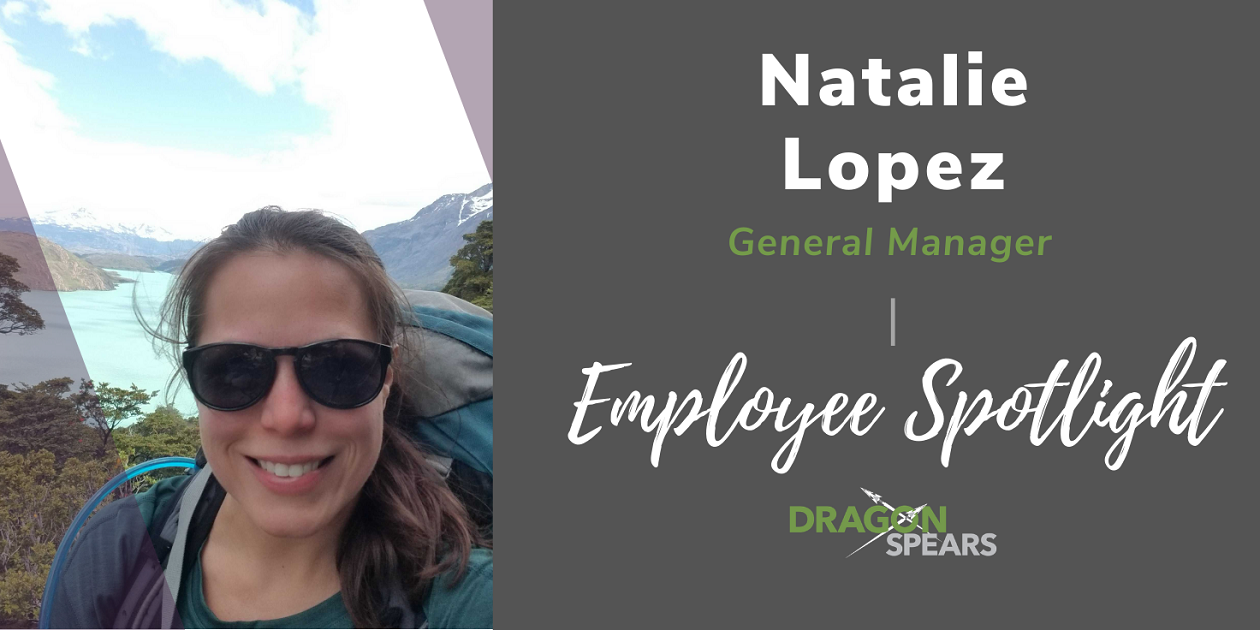 DragonSpears' Employee Spotlight series highlights a different employee every month, offering an inside look into our company culture and the talented individuals who work here. This time, we're chatting with Natalie Lopez, our general manager. Natalie is one of our "Original DragonSlayers" and has been with the company since the start.
Natalie has a Bachelor of Arts degree in English from University of Illinois, Urbana-Champaign and has her Professional in Human Resources, PHR, certification. At DragonSpears, she excels at placing the "right people in the right seats." Natalie loves to understand what people are truly passionate about in order to ensure that the work and atmosphere we have to offer is perfectly suited to what they are seeking.
Here's a little bit more about Natalie!
What is something you're proud to have accomplished at DragonSpears?
I am most proud of adapting to changes year after year. Working to achieve a successful spin-off in 2015, scaling our teams for growth, and helping teammates to elevate into new roles have been some of my most rewarding experiences.
What can you say you are looking forward to and eager to learn about in your career here?
I am most looking forward to continuing to scale for growth, building and evolving our diversity and inclusion initiatives, and helping coach teammates that aspire to become managers and leaders in the organization.

What's the most rewarding part of your job?
Empowering people. I wear a lot of hats and am an "Original DragonSlayer," meaning I've been here since we became DragonSpears. As such, I can provide insight for current employees and future candidates about our history and our vision for the future. The most rewarding parts of my job are onboarding, training, identifying career growth opportunities for my teammates, and helping them achieve their goals. I love to help teammates tie their vision and goals to the vision and goals of DragonSpears.

What are some tech trends or new technology products that you're excited about?
I love anything that makes our jobs easier and allows us to collaborate well. In today's climate, I'm grateful for software that makes onboarding new (remote) employees simple and empowering and allows our teams to communicate face to face even if we're remote. I find that as a software company, we adapt extremely well to new products. This adaptability fosters smooth operations even during a pandemic.
What's your favorite thing about working remotely?
Without tools like Zoom, I might not enjoy it as much, but now that so many people work remotely, I'm grateful that we have maintained a collaborative and social culture. Using video makes it feel far less lonely. Other than that, I love that I can: create a comfortable home office where I enjoy working, wear comfy clothes so I can focus, keep whatever I want in the fridge, and swap commute time for exercise.
What do you enjoy doing outside of work?
The outdoors and physical activity! I love to hike, camp, backpack, run, and travel. Last November, I hiked all over Patagonia in South America.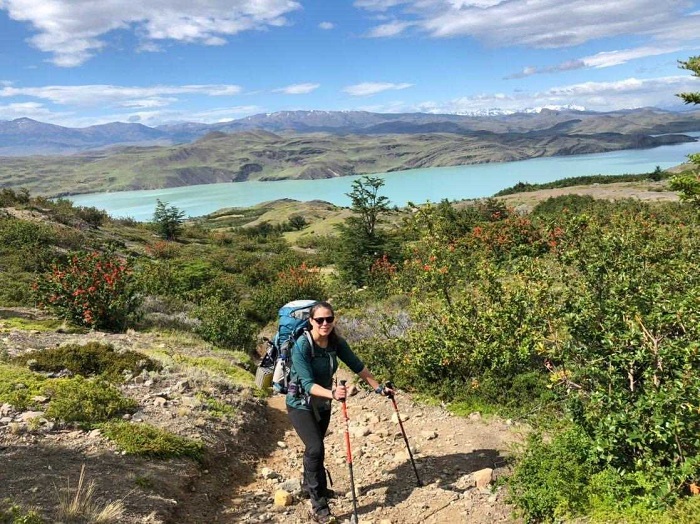 When I want to lounge, I love binge-watching shows, reading, and cooking. When I'm out for walks or long drives, I'm hooked on podcasts and audiobooks. Some Favorite Podcasts:
Rich Roll
The Exam Room
Out There
EntreLeadership
How to Be Awesome at Your Job
What's the next item on your bucket list?
Hopefully, we'll be able to travel again soon, in which case I'll re-plan some canceled trips to Norway and Spain.
Thank you Natalie! Want to find out more about what it's like to work at DragonSpears? Visit our careers page to see the roles we currently have open, and check out our blog for more information about all the great people who work here and the thought leadership they put forward!