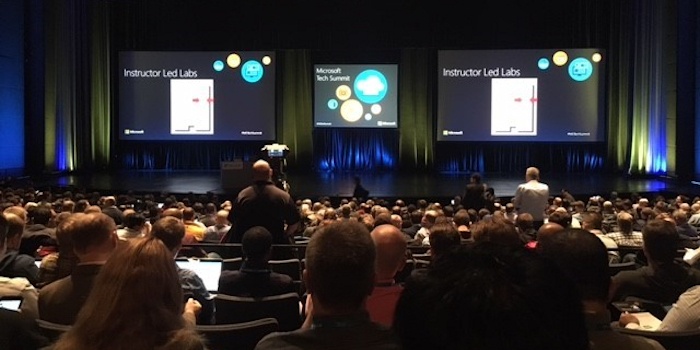 Following the AWS Re:Invent Rewind the week prior, the Microsoft Tech Summit at McCormick place served as the perfect foil for AWS and the cloud wars being waged here in Chicago. The mood that Microsoft projected at the event was optimistic, self-assured, and clear-eyed. They know they're not ahead of AWS. They'll admit it. To that point, my findings based on observation over the two days indicate that few here are fully leveraging Microsoft Azure, and many have only scratched the surface (no pun intended), but that there exists a real space for Azure to win.
The event was called the "Tech Summit", but really it was the "Azure Summit." Kicking off with a keynote by Jason Zander, Corporate VP of Microsoft Azure, the full court press on AWS began. One of the first points he made was that Azure is the leader among the Fortune 500 and has the most Regions* of any cloud provider.
The keynote transitioned from hand waving to demos featuring Microsoft's hypothetical finance company, Contoso. What I took away from the demos was how dashboard-centric the platform has become. Also worth noting is that the demos were conducted on iPads and Google browsers, as well as the standard Microsoft products like the Surface Pro. Overall, this was a good keynote, but I wasn't convinced that they've got depth going into 2017.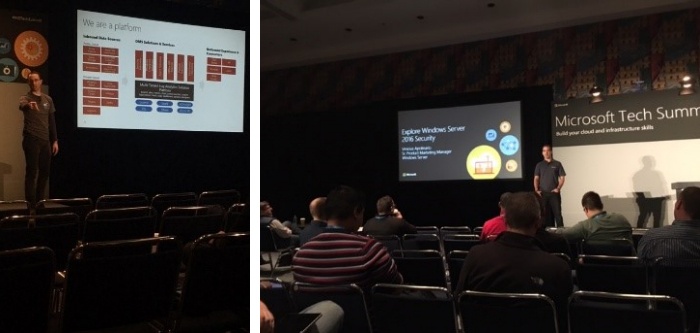 There were way too many sessions listed to review each one here or even just those that I could attend, so I will instead cover what was notable. The major takeaway is that the Microsoft Cloud suite of products makes a lot of sense at Contoso, a fictional Fortune 500 financial industry company that is more concerned about security, compliance, and administration than building software products. There exist, however, some exceptions.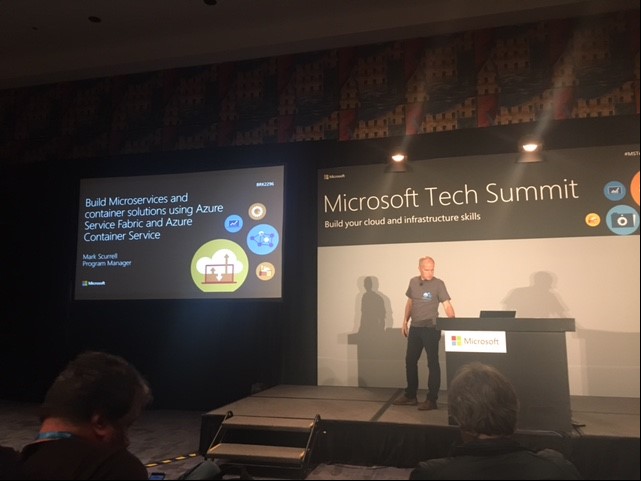 Besides what impressed me most, their OS, Windows 10, and their suite of office tools, O365, there are some Azure developer tools that are really quite awesome. Visual Studio Team Services (VSTS), HockeyApp, Azure Service Fabric, and Operations Management Suite impressed me with their offerings. The real bread winners are the O365 and security integrations, though. This is noteworthy. Why?
Because rarely in business does it make sense to take on your competitor head-to-head. The risks are too high. It makes more sense to flank them, and that is what Microsoft is doing with O365 and their Active Directory security integrations. They're going to make inroads and growth into AWS and GCP market share with their security tooling through active directory and O365. That is how a company like Contoso will get started with Azure, and eventually, they'll be hosting their websites there too.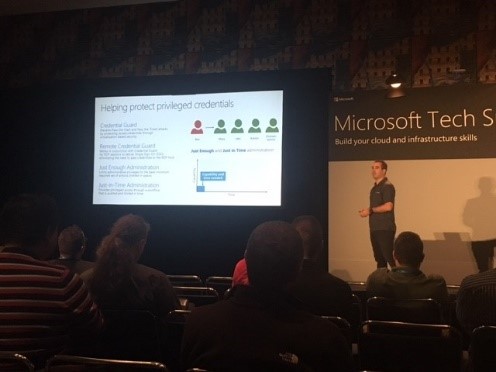 Microsoft says that their cloud is "Global. Trusted. Hybrid." and this rang true the two days I was there at the Summit. For the buyers and leaders out there who are making decisions, "Global. Trusted. Hybrid." is Microsoft, and is what you'll be getting when you choose them over AWS or GCP. However, Microsoft doesn't push their cloud like you might think—in fact, one product that seemed to keep coming up was Microsoft Azure Stack. This is a product that allows you to run Azure services on premises. Essentially this is cloud in a box. That seems a lot like backpedaling to me. I guess the thinking is that sometimes you've got to go down a few chutes if you want to climb the ladders.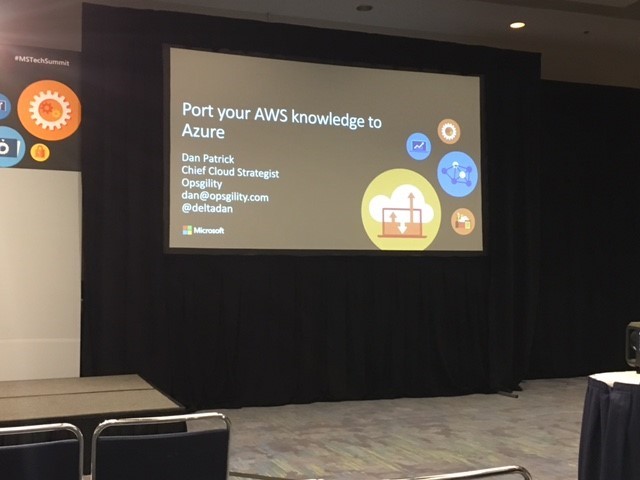 The final noteworthy observation came during the, "Port your AWS knowledge to Azure" session. The fact that this session even existed at all will tell you a lot, but I figured I'd share more. The room was sparse—maybe only 30 folks in attendance. The speaker began by saying that, "AWS is way out ahead of Microsoft" and followed it with, "you might get frustrated" during the process of porting your knowledge. I didn't see anyone wince. The reasons why you would move from AWS to Azure are: because you're a .NET developer, because Microsoft has good security, and because all things considered, life's easier on developers in the Microsoft world—and by extension, Azure—than anywhere else. That being the case, I polled folks leaving the room to see how many in attendance were actually AWS users moving to Azure. I found none.
*Anyone who's familiar with AWS, Azure, and GCP will understand that the way each of these companies define a cluster of their datacenters differs on arbitrary ontologies, making this level of distinction kind of odd given that they all generally have the same coverage. Furthermore, all three are rapidly building out new datacenters in markets with high demand.