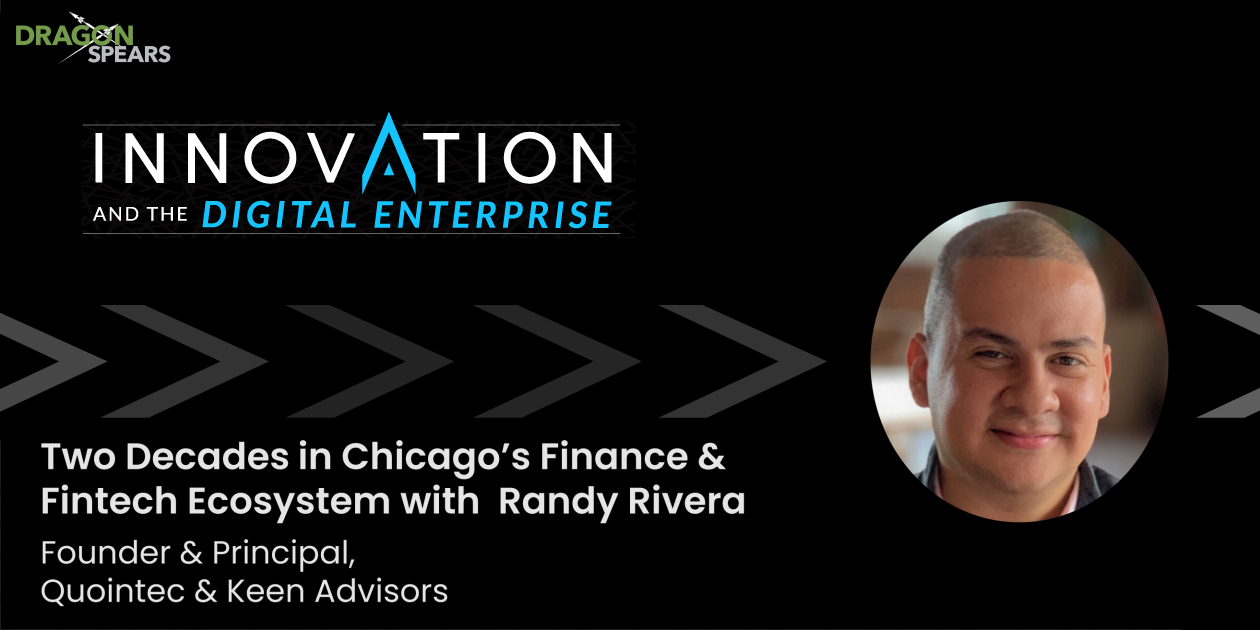 In this episode of the Innovation and the Digital Enterprise podcast, Randy Rivera stops by to chat with Pat & Shelli. Randy is a long time financial executive, entrepreneur and innovator in the emerging Fintech ecosystem. Randy gives his insights into the Chicago ecosystem, first as an executive then as an entrepreneur with keen advisors, the company he founded in 2018.
[00:33] - Who is Randy Rivera?
[06:50] - The Chicago business ecosystem
[13:05] - What makes a founder?
[17:52] - The first five
[20:05] - Developing and growing a company
[27:48] - The growing fintech space
[33:41] - Today's Entrepreneurs
[38:59] - What it takes to make it
[43:43] - Tigers can't change their stripes
[45:25] - Give and take people
[50:43] - Failure and tools to succeed
Randy Rivera is a former financial services exec turned entrepreneur. He spent almost two decades in banking, building businesses in commercial lending and private banking. Inspired by the entrepreneurial spirit of the executives, founders, and owners that his businesses served, Randy founded keen advisors and co-founded quointec. Randy lives in Chicago with his wife and three children. A proud Georgetown and University of Chicago Booth alumni, he remains connected to his alma maters' entrepreneurial communities.
If you'd like to receive new episodes as they're published, please subscribe to Innovation and the Digital Enterprise Insider in Apple Podcasts, Google Podcasts, Spotify or wherever you get your podcasts. If you enjoyed this episode, please consider leaving a review in Apple Podcasts. It really helps others find the show.
This podcast episode produced by Dante32.