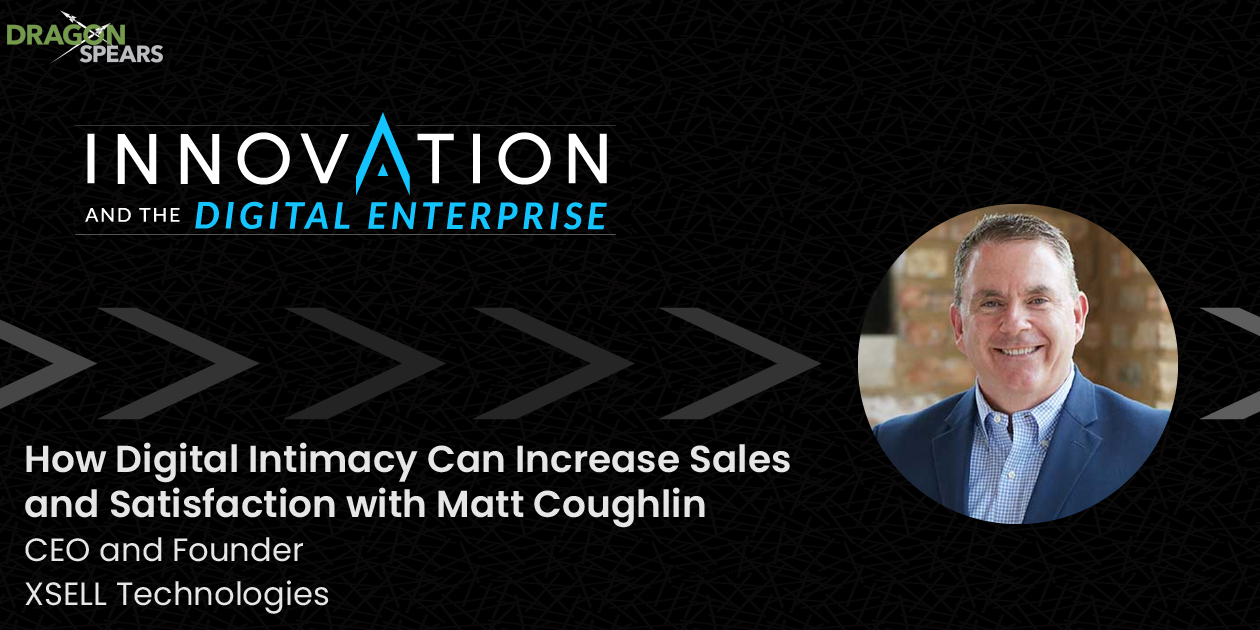 Over the last few decades, as things have increasingly gone digital, we've lost the human interaction behind satisfying sales experiences. Matt Coughlin of XSELL Technologies is passionate about the science of sales. After working with Disney and other big brands, he realized that customers were hungry for digital intimacy.
This week on Innovation and the Digital Enterprise, Matt is talking to Pat about how brands can bridge the divide between offering an array of products and personalization. He discusses how machine learning can help with that dilemma and also talks about his philosophy of "Open for Business", which is all about being open to change and learning. Tune in for a discussion on the future of sales.
[00:23] - This week: Matt Coughlin
[01:18] - The origin for XSELL
[04:59] - Building digital intimacy
[10:17] - Access to expertise
[17:32] - Building durable relationships
[22:42] - The bottom of the funnel
[24:59] - Content, context, and sentiment
[30:32] - Robert Cialdini
[35:46] - Creating an environment of constant learning
[41:18] - The best kept secret in the world
Matt Coughlin is the Founder and CEO of XSELL Technologies - a Chicago based artificial intelligence company that's focused on enhancing online customer engagement and driving results across industries.
Prior to starting XSELL Technologies, Matt worked with the world's most successful brands including Disney, Apple, Carnival, AT&T, GE, Walgreens and many others helping them bring their customer experience to life. It was through this experience that Matt developed a passion for great customer engagement and an appreciation for the economic impact it can drive when done well.
As a passionate entrepreneur Matt has built successful businesses and takes great joy in working with the smart and talented team at XSELL to create something special. Matt attended Illinois State University where he studied Pre Med graduating with a B.S. before being swept up in the technology revolution.
If you'd like to receive new episodes as they're published, please subscribe to Innovation and the Digital Enterprise in Apple Podcasts, Google Podcasts, Spotify or wherever you get your podcasts. If you enjoyed this episode, please consider leaving a review in Apple Podcasts. It really helps others find the show.
This podcast episode was produced by Dante32.