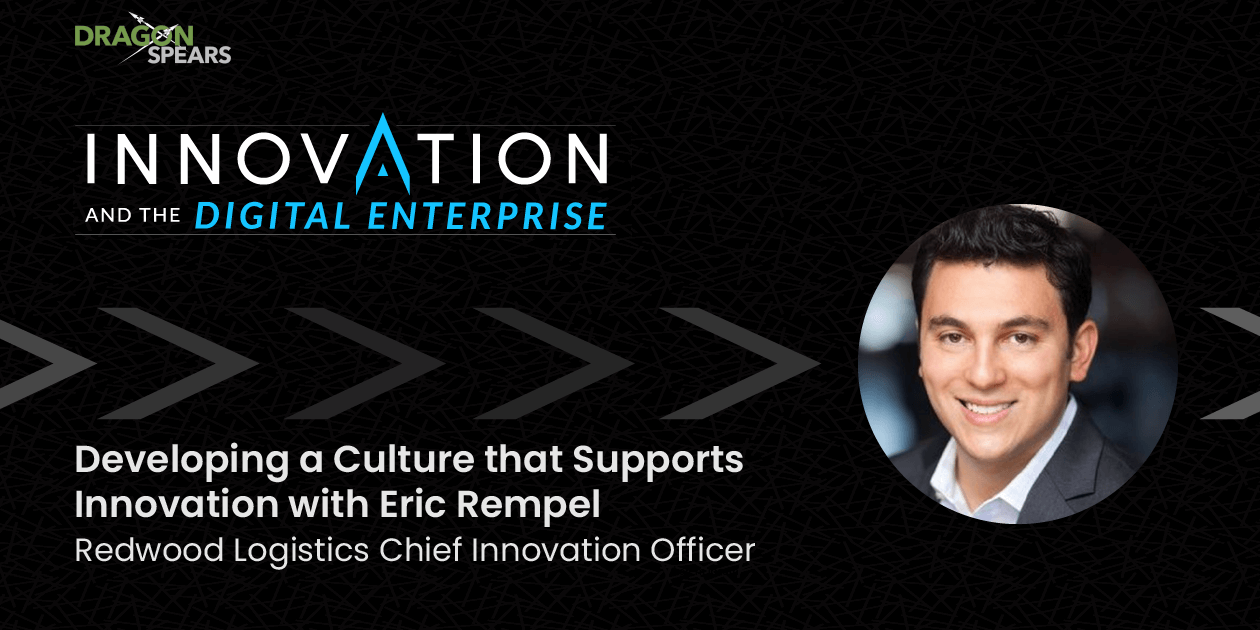 Democratizing innovation leads to happy customers and happy employees that feel a sense of purpose and belonging at work. Creating teams that balance accountability and purpose is Eric Rempel's vision of success.
Eric is the Chief Innovation Officer at Redwood Logistics. He joined Patrick and Shelli on this week's episode of Innovation and the Digital Enterprise for a discussion on creating an organization that is mission-driven, where employees can see the impact they are making. Tune in for his insights and to learn more about Redwood Logistics.
(02:41) - Developing culture
(04:29) - Drive
(06:32) - Vetting candidates
(09:08) - Giving it your all
(10:38) - Timing
(17:23) - The One Thing
(18:24) - Setting a vision
(26:00) - Engaging non-tech folks
(30:48) - Failures and learned lessons
(36:53) - Agile methodology
Eric Rempel is Redwood Logistics' Chief Innovation Officer. He joined Redwood in 2004 as its chief technology officer. As CTO, he played a vital role in the creation of what would become one of Redwood's flagship products - its proprietary transportation management system (TMS) that combines historical analytics, market data, and operational best practices.
Eric led the design of Redwood's TMS offering by integrating powerful transportation automation into customer supply chains, based on a web interface that can be accessed anywhere with an internet connection. TMS remains an integral part of the way Redwood delivers value to the company's brokerage clients.
If you'd like to receive new episodes as they're published, please subscribe to Innovation and the Digital Enterprise in Apple Podcasts, Google Podcasts, Spotify, or wherever you get your podcasts. If you enjoyed this episode, please consider leaving a review in Apple Podcasts. It really helps others find the show.