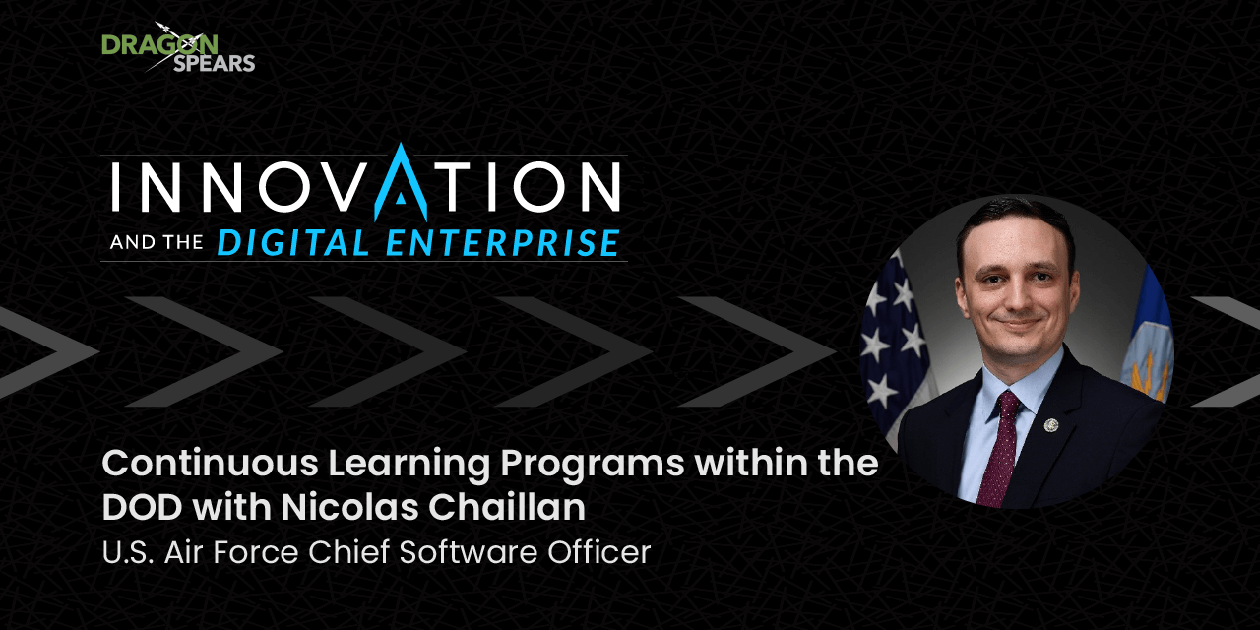 Nicolas Chaillan is the first-ever Chief Software Officer for the United States' government at his post with the US Air Force. As an agency tasked with both innovation and national security, the Air Force has its work cut out for it.
In this week's edition of Innovation and the Digital Enterprise, Nicolas shares his thoughts on why employers should give paid time for continuous learning to remain competitive. He explains why we need to think beyond college degrees and offer alternative pathways toward advancement. Take a listen.
(01:31) - DevSecOps adoption
(03:48) - Big picture moves
(05:27) - Multiple daily releases
(07:36) - End users
(09:38) - Team recruiting
(12:08) - Learn while fighting
(15:56) - Prioritizing people
(22:20) - Teenage entrepreneurship
(24:18) - Being the change agent
(30:54) - How can we help?
Mr. Nicolas Chaillan is appointed as the first Air Force Chief Software Officer. He is also the co-lead for the Department of Defense Enterprise DevSecOps Initiative with the Department of Defense Chief Information Officer. The Chief Software Officer is responsible for analyzing current software and cloud migration plans to avoid vendor lock-ins while allowing for rapid prototyping and a streamlined process for deployment. To keep up with the pace of technology, Mr. Chaillan evaluates and authorizes new commercially available off-the-shelf software and cloud-related technologies to help with their adoption across various Air Force programs based on their mission needs.
In addition to his public service, Mr. Chaillan is a technology entrepreneur, software developer, cyber expert, and inventor. He has over 19 years of domestic and international experience with strong technical and subject matter expertise in cybersecurity, software development, product innovation, governance, risk management and compliance. Mr. Chaillan is recognized as one of France's youngest entrepreneurs after founding WORLDAKT at 15 years of age. He has founded 12 companies and has created and sold over 180 innovative software products to 45 Fortune 500 companies. Additionally, he is recognized as a pioneer of the computer language PHP.
If you'd like to receive new episodes as they're published, please subscribe to Innovation and the Digital Enterprise in Apple Podcasts, Google Podcasts, Spotify, or wherever you get your podcasts. If you enjoyed this episode, please consider leaving a review in Apple Podcasts. It really helps others find the show.