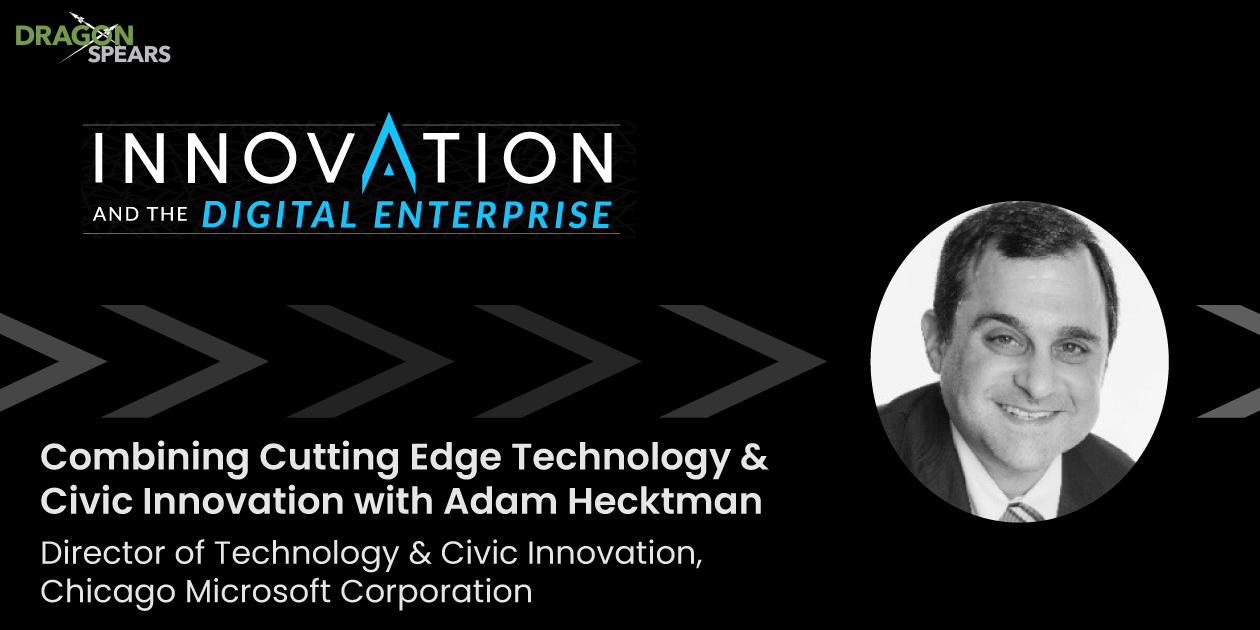 Hosts Shelli Nelson and Patrick Emmons are joined today by Adam Hecktman, long time civic technology executive at Microsoft. Adam shares how the role of technology in communities has evolved throughout the years. We discuss the social impact of technology, efficient government and the challenge of keeping talent in Chicago.
[03:00] - 27 years and 10,000 great days at Microsoft
[03:50] - The challenge of keeping talent in Chicago
[05:35] - Chicago driving the transportation logistics industry forward
[08:30] - Hiring for skills not diplomas
[09:45] - Mentoring upcoming entrepreneurs in the social impact space
[11:50] - Experiences with demands for efficient government
[13:30] - Chicago mayoral campaigns with someone not named Daley
[15:45] - 1871, Governor Pritzker and Illinois economic development
[20:00] - The State of Illinois opportunity to provide equity in education
[25:56] - The opportunity to live, work and grow in Chicago
[29:00] - The call to action for business owners in Chicago when hiring candidates
[34:15] - Lesson in encouraging lifelong learning & Microsoft Partner Program
[38:30] - Creating a culture of learning starts at the top of an organization
[40:00] - The gig economy, micro-internships and new models of employment
[42:00] - Adam's one word
[44:00] - Pink bicycles and culturally relevant 70's movies
Adam J. Hecktman is Microsoft's Director of Technology and Civic Innovation for Chicago. In this capacity, Adam helps the city's civic leaders – and the communities they serve – use cutting-edge ideas around technology to solve the city's biggest social challenges. He provides guidance on the key issues and opportunities facing neighborhoods and communities today and in the future. Prior to this role, Adam was the Director of the Microsoft Technology Center – Chicago, helping organizations ensure long-term success when facing their toughest business challenges and opportunities. He has been with Microsoft in Chicago since 1991. Prior to Microsoft, Adam was a consultant at Accenture. Adam received a Bachelor of Science in Commerce and Business Administration from the University of Illinois at Urbana-Champaign and is pursuing his Master of Data Science with a concentration on Computational Methods at DePaul University. Adam has served his community in various capacities and appointments at non-profit, civic, and professional organizations including: Founder of the Chicago City Data Users Group, Advisory Board of IT Knowledge Abilities Network, Leadership Council of THRIVE Chicago, along with many others. Adam can be found on Twitter and at the Microsoft Chicago homepage.
If you'd like to receive new episodes as they're published, please subscribe to Innovation and the Digital Enterprise Insider in Apple Podcasts, Google Podcasts, Spotify or wherever you get your podcasts. If you enjoyed this episode, please consider leaving a review in Apple Podcasts. It really helps others find the show.
Episode produced by Dante32.