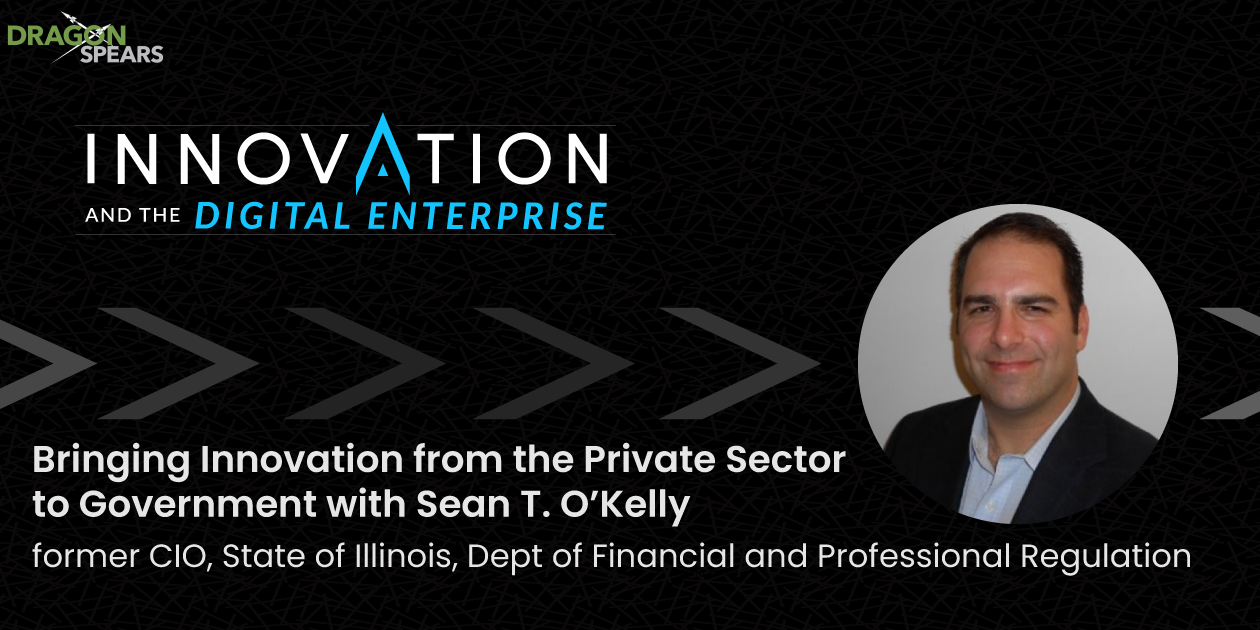 Private sector companies spend a lot of time innovating to create the best possible user experience for potential customers. Government agencies by contrast, tend to work with outdated, analog tools. Why aren't government agencies following suit?
Sean T. O'Kelly spent more than twenty years in the tech private sector. When he was appointed CIO for Financial and Professional Regulation at the State of Illinois, he jumped at the opportunity to help create a more positive user experience for everyday citizens. Sean talks to Patrick and Shelli about innovation as a public good and why he believes all people should strive to serve in a government capacity at some point in their careers.
Tune in for a lively discussion on innovation at the intersection of public and private sectors.
[00:25] - This week: Sean T. O'Kelly
[00:55] - Sean's role with the State of Illinois
[04:31] - The citizen experience
[11:42] - Improving security
[19:23] - Pushing for innovation
[22:52] - From tech to the state
[25:59] - Participating in government
[27:04] - Blockchain, containers, and AI
Sean T. O'Kelly is the former CIO for Financial and Professional Regulation at the State of Illinois, which governs community banks, financial institutions, real estate, cannabis, and professional licensing. The Department is one of the largest licensing bodies in Illinois and regulates the largest number of state-chartered community banks and credit unions in the country. In this role, he was responsible for supporting revenue in B2B and B2C channels, driving technology strategy and investment, managing a portfolio of applications, delivering new service offerings, improving security and operations, and exploring innovation opportunities with emerging technologies.
Prior to joining the State a little more than two years ago, Sean spent 20 years in the private sector in several technology consulting and operations roles, largely within the financial services and insurances industries. Sean is currently an advisor to start-ups and other CIO's.
If you'd like to receive new episodes as they're published, please subscribe to Innovation and the Digital Enterprise in Apple Podcasts, Google Podcasts, Spotify or wherever you get your podcasts. If you enjoyed this episode, please consider leaving a review in Apple Podcasts. It really helps others find the show.
This podcast episode was produced by Dante32.