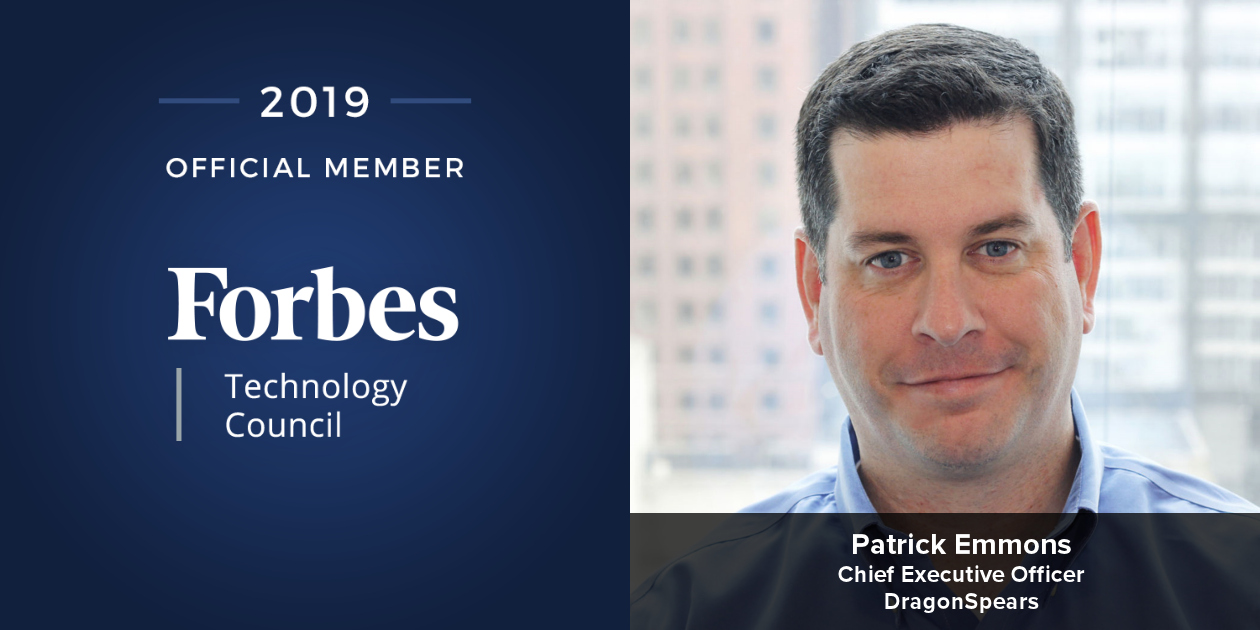 Forbes Technology Council Is an Invitation-Only Community for World-Class CIOs, CTOs, and Technology Executives.
Chicago, IL, October 2, 2019 - Patrick Emmons, CEO and Founder of DragonSpears, a custom software development company, has been accepted into Forbes Technology Council, an invitation-only community for world-class CIOs, CTOs, and technology executives.
Patrick Emmons was vetted and selected by a review committee based on the depth and diversity of his experience. Criteria for acceptance include a track record of successfully impacting business growth metrics, as well as personal and professional achievements and honors.
"We are honored to welcome Patrick Emmons into the community," said Scott Gerber, founder of Forbes Councils, the collective that includes Forbes Technology Council. "Our mission with Forbes Councils is to bring together proven leaders from every industry, creating a curated, social capital-driven network that helps every member grow professionally and make an even greater impact on the business world."
As an accepted member of the Council, Patrick will connect and collaborate with industry leaders to advance technology innovation. He'll also work with a professional editorial team to share his insights in original business articles on Forbes.com, and contribute to published Q&A panels alongside other experts. With access to a variety of opportunities to share his expertise and continue developing his knowledge and skillset, he can help his colleagues and clients achieve even greater success!
"I'm very excited to be joining this community of visionary leaders," said Patrick Emmons. "The Forbes Technology Council has created an excellent platform for thought leadership and I look forward to sharing my insights and expertise in DevOps, Agile, and cloud-native software with this community."
About DragonSpears
DragonSpears is a custom software development company that applies Agile methodologies and DevOps tools to architect applications with a cloud-first approach. We have spent 18+ years building high-functioning software that enable businesses to deploy software sooner, reduce time spent testing, increase the quality of code, and create greater alignment between IT and the business. Our software allows our clients to stay in a strategic position to grow and confidently respond to issues without sacrificing time for innovation and value creation.
About Forbes Councils
Forbes Councils is a collective of invitation-only communities created in partnership with Forbes and the expert community builders who founded Young Entrepreneur Council (YEC). In Forbes Councils, exceptional business owners and leaders come together with the people and resources that can help them thrive.
For more information about Forbes Technology Council, visit forbestechcouncil.com. To learn more about Forbes Councils, visit forbescouncils.com.
Contact:
Natalie Lopez
DragonSpears, Inc.
312-897-2088
nlopez@dragonspears.com