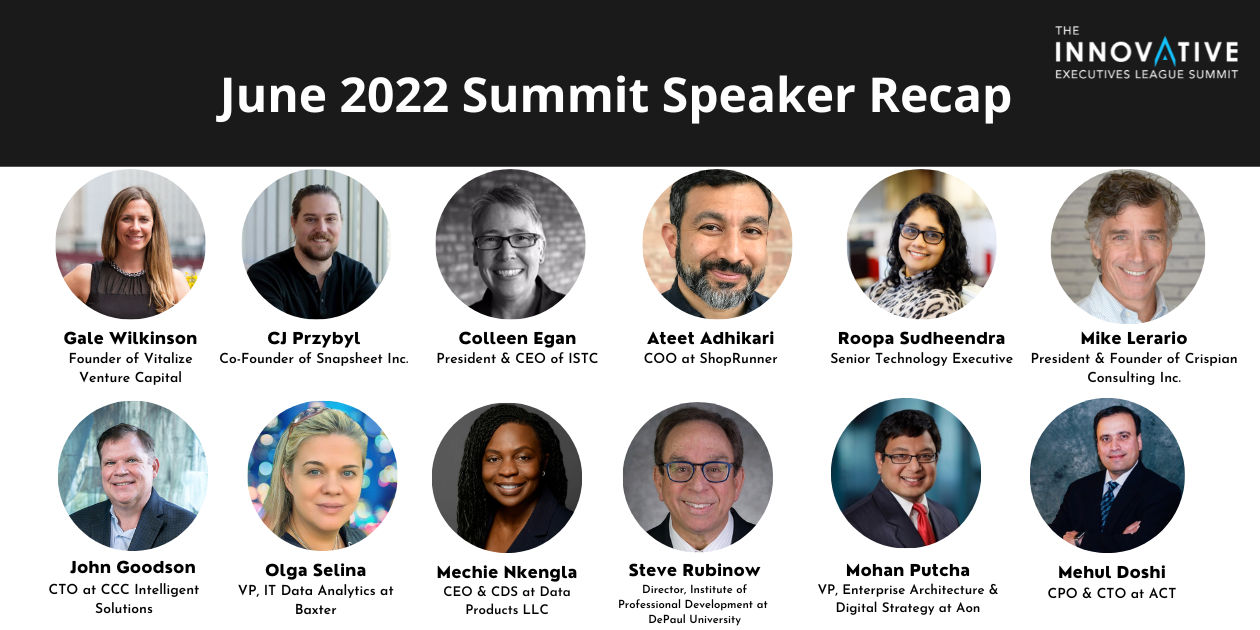 On June 16th, 2022, we held our first in-person Innovative Executives League Summit at the Old Post Office in Chicago! We had a lineup of fourteen guest speakers to share their insights with us. Here is a summary of their key takeaways.
---
Mike Lerario, Keynote Speaker
The Innovator's Dilemma: Finding Balance Between Leadership & Management
A changing environment demands innovation to stay relevant, but innovation doesn't happen in a vacuum. We often struggle with finding the balance between what we are good at today while adapting or transforming for the future. Like the balance required to manage and lead, innovation happens when we approach it as a "both/and" proposition, not "either/or." Here's a breakdown of Mike's view on managing vs. leading.
Manage
Stuff
Process
Efficiency
Relative
Mitigate Risk
Lead
People
Outcome
Effectiveness
Absolute
Accept Risk
Source: Mike Lerario, June 2022
---
CJ Przybyl, Co-Founder, Snapsheet Inc.
Startup Culture as You Scale
Culture is arguably the most critical factor to the success of any early-stage startup, yet many founders are often caught off-guard when systemic issues arise due to culture. During his presentation, CJ discussed a repeatable framework that entrepreneurs can use to systematically build the right culture from day one. He also shared tips and tricks to course correct culture as startups begin to scale.
Here is the formula to build a scalable culture that CJ discussed during his presentation.
Careful selection of entry-level candidates.
Humility-inducing experiences promote openness toward accepting an organization's norms and values.
In-the-trenches training develops mastery of a core discipline.
Rewards and control systems are meticulously refined to reinforce behavior deemed pivotal to success in the marketplace.
Adherence to values enables the reconciliation of personal sacrifices.
Identify and develop consistent role models in the organization & reinforce folklore.
CJ's tips and tricks to establish a scalable culture.
Promote and highlight the people who embody the team's values. Promotion is the most visible way companies build culture by very publicly rewarding certain kinds of behavior. Avoid the danger zone of promoting those who openly defy your culture just because they achieve good results - unless that is your culture.
When hiring, let the team curate the culture. Hiring is more than just capabilities; you're in trouble if only your HR is responsible for sourcing and presenting. You must read your team, understand if it's friction or fracture, and adapt quickly in the early stages.
Employees can see the entire company react, benefit and reward their sacrifice and codify it into the DNA.
Source: CJ Przybyl, June 2022
---
Colleen Egan, President & CEO, Allison James, Strategic Partnership Manager, and Jackie Navigato, Program Manager of STEM Experiences from Illinois Science & Technology Coalition
Building a STEM Talent Pipeline with Corporations
ISTC-Education's successful STEM programming supports the next generation of student innovators, creating lines of sight to career paths across industries. By problem-solving around an industry-related question and interacting with professional mentors, ISTC helps students engage in real-world learning and fosters the development of STEM talent.
ISTC-Education believes that high-dose experiences lead to educational and career success. Their core philosophy is about ensuring students have opportunities to learn, grow, and thrive.
Source: Colleen Egan, Allison James, & Jackie Navigato, June 2022
---
Mehul Doshi, Chief Product & Technology Officer, ACT
Making Transformations Stick
During Mehul's presentation, he shared the digital transformation experiences at ACT, Foot Locker, and Tribune, including what has worked and where the pitfalls lie. Some of the pitfalls Mehul mentioned during the presentation are:
Don't get stuck in buzzwords (EX: Agile, SAFE, AI, Automation).
Don't be afraid to cut losses and move on. Sunk Cost Fallacy is REAL!
Don't serve the process. Ceremonies become key; value & outcome lose focus.
Don't accept "This is how we have always done it. This is what is standard at XYZ".
Don't get disheartened. Progress is NON-LINEAR!
Don't be afraid of personnel change; embrace and support it.
Don't believe in words. Validate the actions.
Don't stop when tech has been transformed. BUSINESS NEEDS TO EVOLVE!
Source: Mehul Doshi, June 2022
---
Gale Wilkinson, Founder & Managing Partner, Vitalize Venture Capital
Angel Investing & Venture Capital: Today's Trends
Gale discussed the angel & VC investing landscape, including how things are changing due to macro-economic impacts. Her session welcomed beginner and experienced investors and included a lively Q&A session on all things angel investing. According to Gale, here are some reasons to get involved with angel investing.
Diversify existing portfolio
Potential tax savings (via QSBS)
Stay abreast of new trends & learnings
Help founders
Get experience before a VC role
Have Fun
Source: Gale Wilkinson, June 2022
---
Steve Rubinow, Director, Institute of Professional Development, DePaul University
Pre-K to Gray: The Increasing Criticality of Continuous Learning
The need for continuous or lifelong learning, especially in STEM subjects, is more critical than ever. Throughout our projected 100-year lives (half of today's children can expect to reach that age), many people plan to work 60 years or more. Due to rapid technological advances and the decay of technical knowledge, some technology workforce members update their skills every six months.
An under-skilled workforce poses a significant threat to innovation and creativity, ultimately affecting a company's bottom line. Learning, formal and informal, over the time of working life, not only for individuals but organizations as a whole, is critical for continuous innovation. Steve Rubinow cited many valuable statistics regarding the topic of continuous learning.
65% of US workers said learning new skills is vital in deciding whether to take a new job.
61% said it was imperative in deciding whether to stay at their current job.
Technology skills typically have a two-year half-life, meaning that what developers know today will be outdated in only two years.
Lifelong learning is crucial in the evolving work environment; the tools are getting better and more accessible - greater than 50 percent of freelancers updated their skills within the past six months compared with 30 percent of non-freelancers.
Source: Compiled by Steve Rubinow derived from multiple outside sources, June 2022
---
Olga Selina, Vice President, IT Data Analytics, Baxter International & Mechie Nkengla, CEO & Chief Data Strategist, Data Products LLC
The Human Impact of Data Literacy
Data now underpins success in most opportunities—impacting municipalities, healthcare, the largest banks, organizations, and individuals. Olga and Mechie's presentation explored the impact of data literacy in organizations, lives, and communities.
They focused on the importance of creating a data-led culture in healthcare and the challenges of transforming a 91-year- old organization into a data-led institution and building a data-driven workforce as a way forward. Olga and Mechie expressed why data literacy matters. See below for a quick summary.
We live in a digital world.
Data is everywhere. It is growing exponentially, with 90% of the world's data being generated in the last two years alone. — US Chamber of Commerce Foundation.
Understanding and thriving require data literacy. 90% of the business leaders cite data as key to company success, but only 25% of workers feel confident in their data skills. — Harvard Business Review
Source: Compiled by Olga Selina and Mechie Nkengla derived from multiple sources, June 2022
---
Ateet Adhikari, Chief Operating Officer, ShopRunner
Disruption without Distraction: How to Innovate without Losing Focus
In this presentation, Ateet discussed effectively setting up and operating an organization's new venture/innovation team. This process included implementing a rigorous high-volume idea process that moves innovation through a funnel from idea generation to product graduation, working with leadership and key stakeholders, and protecting the organization's broader business focus. Ateet shared five characteristics that make up a successful innovation team.
Autonomy: A direct connection with the executive team.
Diversity: Including backgrounds and skill sets.
Budget: An independent annual budget set and permits utilization of 3rd parties vs. internal resources.
Principles/Constraints: Perfection is the enemy of progress and Wizard of Oz everything.
Definition: Ideation, incubation, strategy, new ventures, strategic initiatives, and innovation.
Source: Ateet Adhikari, June 2022
---
Mohan Putcha, Vice President, Enterprise Architecture & Digital Strategy, Aon
Removing Friction from Innovation
Friction stifles innovation. Mohan emphasized that the role of leaders is to create and eliminate operational friction within firms. Operational friction can stifle innovation. How do you detect this friction? What are the best approaches to removing this friction and enabling innovation? Mohan discussed practical strategies and guidance to accelerate your innovation journey in a collaborative fireside chat environment. Here are some tips mentioned during his presentation.
Move away from trying to find a solution and dig deeper into the problem. We must stop selling solutions. Start selling the problem. Don't talk about features or benefits. 99% of the time should be spent talking about the issue.
Defining from the top down is not adequate. We must find a strategy for the people who are experiencing the friction.
Some innovation is linear, and some are non-linear. It's best to find the balance between the two.
Source: Mohan Putcha, June 2022
---
Roopa Sudheendra, Senior Technology Executive
The Role of Technology Strategy in Establishing a Culture of Continuous Learning
During Roopa's presentation, she discussed using technology strategy to establish a culture of continuous learning. She shared why continuous learning is essential, how to develop a learning culture and application rationalization. According to Roopa, continuous learning is essential for three reasons.
Enables an organization to respond to change and disruptions
Empowers people to acquire, share & leverage new knowledge
Encourages fail fast and risk-taking environment
Source: Roopa Sudheendra, June 2022
---
John Goodson, CTO at CCC Intelligent Solutions
Innovation starts with culture. Talk about it quarterly, mid-year and year-end to consistently recognize innovation throughout the organization.
Reward ideas – even those that are bad! Don't shut them down. One good idea out of twenty is better than zero.
Have events like Hackathons. Don't focus only on coding problems, but allow teams to take their own business experiences in the company and present them to stakeholders to show what can be done.
Source: John Goodson, June 2022
---
The June 2022 Summit was a huge success, thanks to all our members, attendees, and speakers. The League is about sharing knowledge and resources to grow the innovation network. Our annual Summits are just one of the many ways we foster strategic-level conversations amongst the nation's executives. Learn more about the Innovative Executives League and apply to join today!