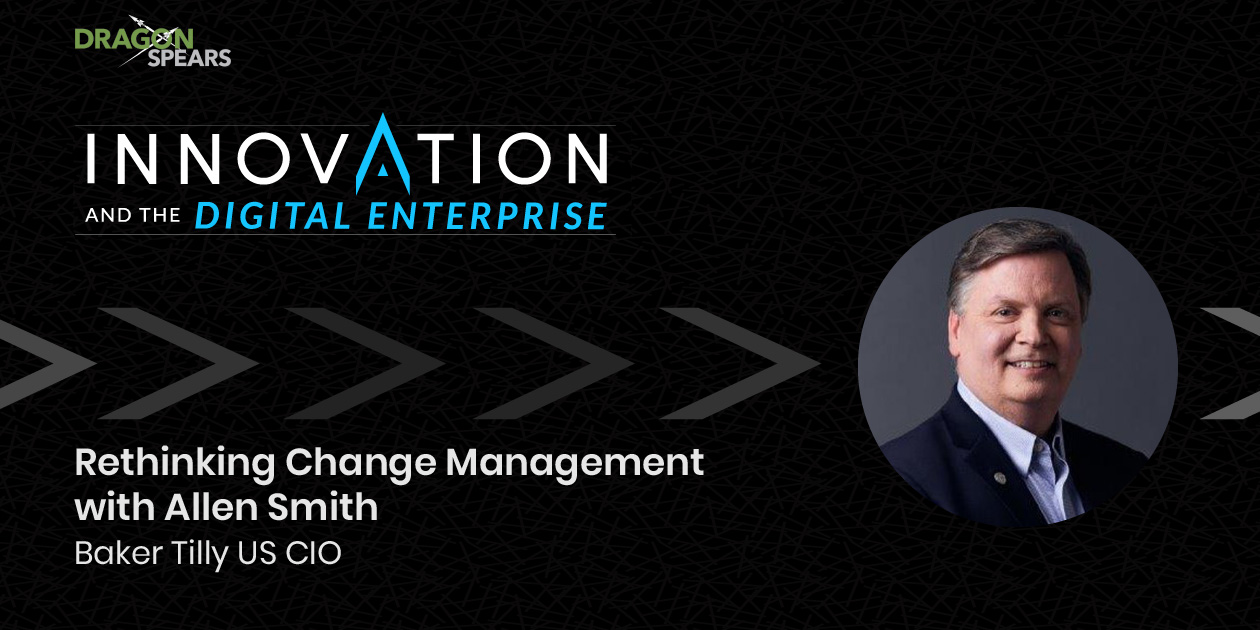 What does change management look like in a world of constant, rapid change? Allen Smith, CIO at Baker Tilly, believes keeping up with the pace of change today requires rethinking change management as a discipline, including the rigid processes and communication protocols from traditional waterfall development.
Allen joins Patrick and Shelli to talk about the increasing overlap between our personal and professional lives. People bring the expectations they have for consumer software into their view of workplace software and tools. Whether they like it or not, businesses have to contend with any negative aspects of that trend. Why not lean into the change and capitalize on the advantages?
(01:19) What makes Baker Tilly different?
(02:45) Ability to change
(04:59) Agile development
(07:44) Part of a progression
(11:41) Adoption rate
(16:09) Building a long-term strategy
(22:17) Digital nomads
(23:44) Candor in mentorship
About Our Guest
Allen Smith is the Chief Information Officer of Baker Tilly US, the 9th largest accounting firm with $1b in revenue. Allen has served as the firm's CIO for nearly 20 years and leads all technology strategy and execution across the firm. Under his technology leadership, Baker Tilly has grown its revenue more than 1000 percent. During this growth, Allen has established a strong track record of results by creating and fostering a culture driven by collaboration and camaraderie among his team. This open atmosphere has created team cohesion, produced above-average retention, and driven results that are well known within the industry.
In addition to his executive leadership role with Baker Tilly, Allen serves in senior leadership roles for Baker Tilly International. These roles include Chair of the North America IT Committee and Co-Chair of the Global IT Committee. Allen also served for four years as a Board Member of the Information Technology Alliance (ITA), including holding the roles of Vice-Chair and Chair of the Board during his tenure. He works directly with the AICPA in a volunteer role and has spoken at numerous domestic and international industry, technology, and human resources conferences.
Prior to joining Baker Tilly, Allen served in senior leadership and technology roles in a variety of organizations, including technology start-ups, hyper-growth enterprises, and outsourced service providers. His industry experience includes accounting, legal, financial services, and real estate. Allen understands the importance of unwinding. He enjoys golf, traveling, and curling. A small claim to fame is that Allen was an on-ice official for the 2006 Olympic Team Trials for Curling. While he is passionate about curling, he is the first to state his officiating skills are better than his curling skills.
Subscribe to Your Favorite Podcast
If you'd like to receive new episodes as they're published, please subscribe to Innovation and the Digital Enterprise in Apple Podcasts, Google Podcasts, Spotify, or wherever you get your podcasts. If you enjoyed this episode, please consider leaving a review in Apple Podcasts. It really helps others find the show.