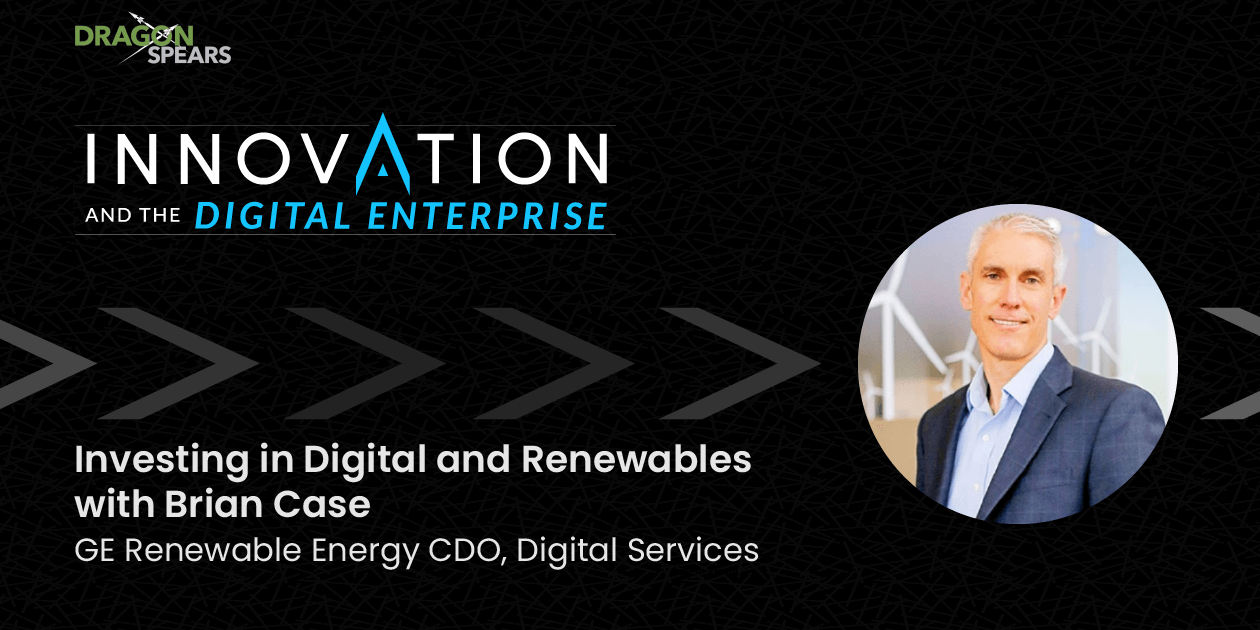 Over the last few years, companies have been transitioning in mass to renewable energy and resources while taking a digital approach to operations. These two transitions have both been put into overdrive in light of COVID-19. Brian Case is at the center of it all as the Chief Digital Officer at GE Renewable Energy. He joins Shelli and Patrick on the podcast this week to talk about the importance of digitization and his approach to leadership.
Tune in to the episode to learn more about the importance of a company's motivation to adopt digital, how the repetition of a problem leads to product advancement, and how to train the ideal team player.
(01:04) - Driving the energy transition
(02:50) - Building escape velocity
(04:55) - Navigating customer needs
(06:43) - Accelerated digital transformation
(07:46) - Repeatability of the problem
(09:42) - Culture of customer obsession
(13:06) - The customer of my customer is my customer
(14:12) - Internal vs. external metrics
(16:06) - Lessons from West Point
(19:32) - Veteran talent
(22:31) - The Ideal Team Player
(23:05) - Team of Teams
(23:24) - The DevOps Handbook
(23:29) - Accelerate
(24:01) - Talent development
(26:27) - Professional support
As CDO, Digital Services, Brian leads product strategy, development, and delivery of the digital product portfolio for GE Renewable Energy Digital Services. Brian's team is focused on transforming the renewable energy industry by delivering innovative digital solutions that help GE's customers increase revenue, minimize cost, and reduce financial risk across their wind, solar, and hydro assets.
Over the last 13 years, Brian has held multiple roles across GE Renewable Energy, Current powered by GE, GE Ventures, and GE Power. Prior to joining GE Renewable Energy, Brian led the incubation of a distributed energy resource platform as Executive Director, New Energy Platform in GE Ventures. His efforts resulted in the launch of Current, powered by GE, a newly created business focused on leading the distributed energy transition by deploying and integrating commercial and industrial energy resources with the grid. Brian also led the America's Project Development team within the GE Power business, responsible for customer partnering and energy project development & investment initiatives focusing on the combined cycle, wind, and utility-scale solar development assets.
Brian joined GE in 2006 through the Junior Officer Leadership Program, a two-year, cross-functional, rotational business program designed for transitioning military officers. Before joining GE, Brian served six years as an armor officer in the United States Army's 3rd Infantry Division. Brian holds a Bachelor of Science degree in civil engineering from the United States Military Academy and was awarded a Bronze Star with Valor device for service in Iraq. He continues to invest in the development and support of military veterans by leading the GE Renewable Energy Veterans Network.
If you'd like to receive new episodes as they're published, please subscribe to Innovation and the Digital Enterprise in Apple Podcasts, Google Podcasts, Spotify, or wherever you get your podcasts. If you enjoyed this episode, please consider leaving a review in Apple Podcasts. It really helps others find the show.