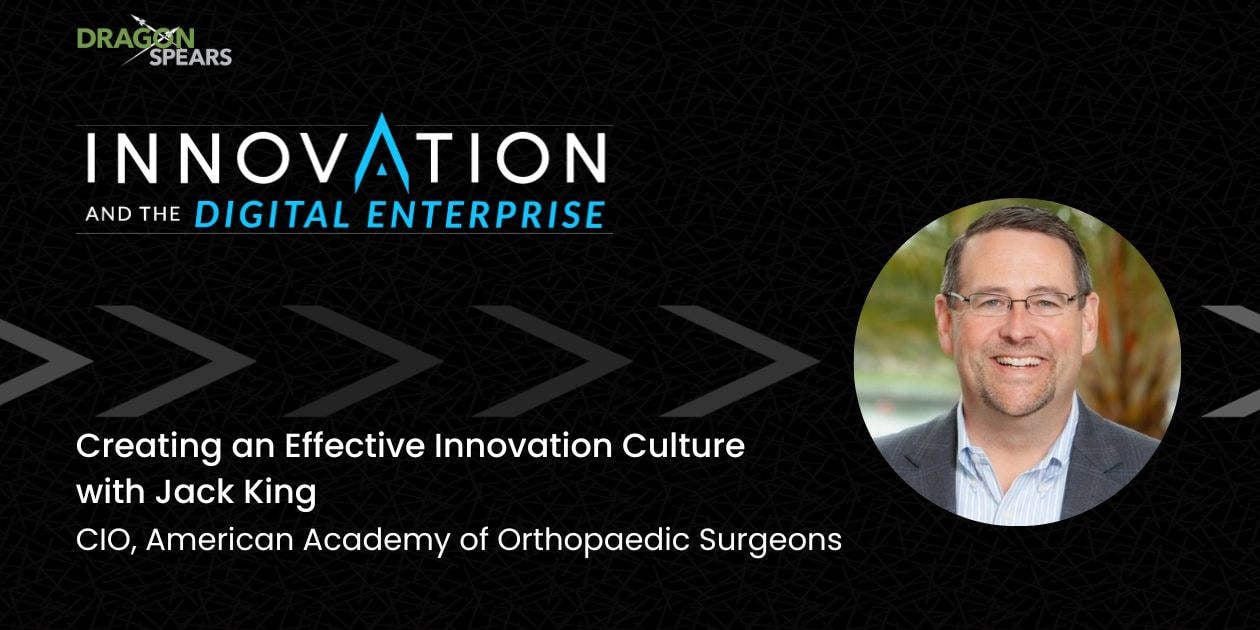 Today we're sharing an insightful presentation from one of our Innovative Executives League Summit speakers, Jack King. At the November summit, Jack spoke to the audience about creating an effective innovation culture and leveraging disruptive technologies through VR and AR.
Jack currently serves as the CIO for the American Academy of Orthopaedic Surgeons, AAOS. He provides vision and leadership to help develop and manage both the application, data, and service portfolios to enable AAOS to be the trusted leader in advancing muscular skeletal health. Prior to AAOS, Jack served as the Chief Technology Officer of Broward Health and the Chief Technology Officer for the state of Illinois.
(01:25) – Background of AAOS
(02:54) – Supply and demand mismatch in innovative thought
(04:09) – Innovation within an established industry
(05:22) – Introverts vs extroverts
(06:22) – Walks in the woods: earning trust
(07:57) – Making it safe to ask questions
(08:55) – Move from hierarchy to accountability
(10:22) – Alignment & autonomy
(11:49) – Flywheel of innovation
(12:47) – AAOS Digital Front Door mobile app
If you're unfamiliar with the Innovative Executives Leagues, it's an invite-only community of innovators, entrepreneurs, and intrapreneurs with a growth mindset and a passion for innovation. It was founded to increase the network of innovation in the Chicagoland area and also on a national scale. If you're interested in becoming a member, send us a message at LinkedIn or visit our website at www.dragonspears.com/innovative-executives-league.
Subscribe to Your Favorite Podcast
If you'd like to receive new episodes as they're published, please subscribe to Innovation and the Digital Enterprise on Apple Podcasts, Google Podcasts, Spotify, or wherever you get your podcasts. If you enjoyed this episode, please consider leaving a review on Apple Podcasts. It helps others find the show.