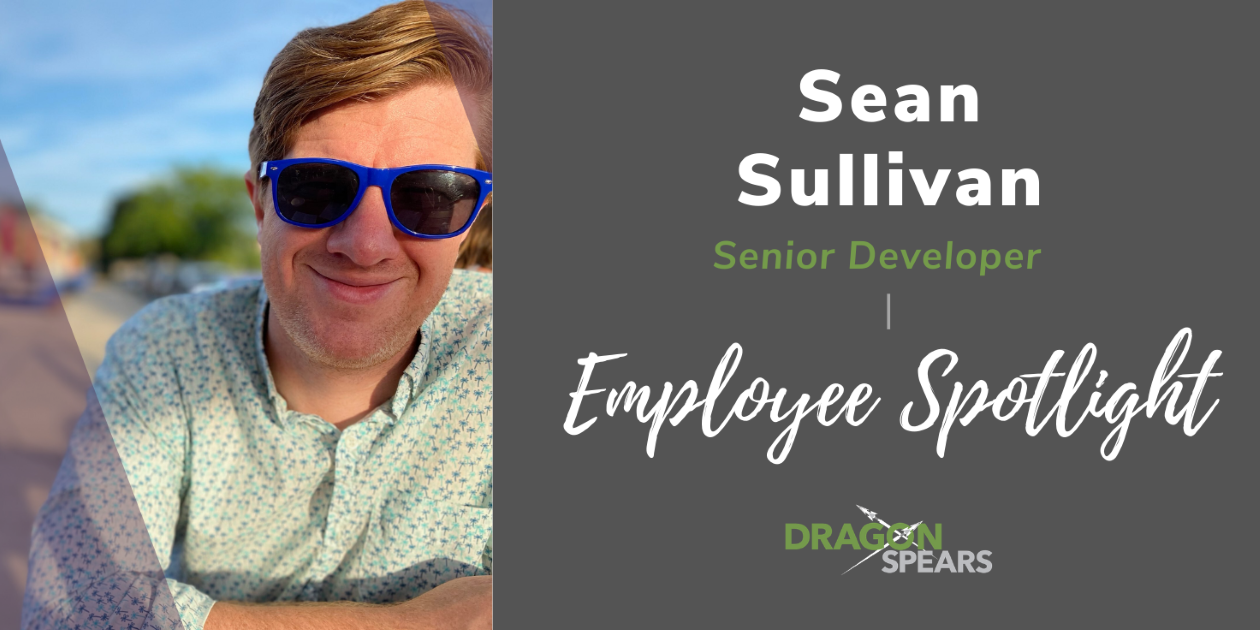 DragonSpears' Employee Spotlight series highlights a different employee every month, offering an inside look into our company culture and the talented individuals that work here. This time, we're chatting with one of our senior developers, Sean Sullivan, who's been with the company for two years now.
Sean graduated from the University of Toledo in Toledo, Ohio, with a B.S. in Computer Science and Engineering Technology. He's a Microsoft Certified Solutions Associate, Certified Scrum Master, AND has his CompTIA Security Plus Certification. Sean is truly a DevOps expert and has been working in various technology roles for 14 years.
Here's a little more about Sean!
What are you known for at work?
I've done a lot of work throughout my career setting up efficient continuous integration/continuous delivery (CI/CD) solutions for clients. I have also been a big proponent of helping clients understand how technical solutions can solve their business needs.
What's the one problem you are best at solving for your clients? What do your ideal clients say about you?
I'm skilled at showing clients how they can use technology to improve their processes and run their business more efficiently. My ideal clients say that I am a valued team member, and that I help them to solve their problems in ways they hadn't thought of themselves.
What are you most passionate about professionally and personally?
Professionally, I am really passionate about automation and cloud native platforms. I love working to understand processes that a client uses and automating them to give them more time to do value-add work for their business.
Personally, I am really passionate about bikes, racing, soccer, wood working, and donuts (if you're in the Chicagoland area, Firecakes is a must try). As far as excitement goes, there are few things that get the blood racing like cars with a thousand horse power flying past you down a straight away.
Where can we find you when you're not working?
I can regularly be found at the park with a nice picnic or out in my garage workshop. An ideal weekend usually involves some sort of physical activity, like a long bike ride or a run, a touch of reading, and time spent hanging out with my wife and friends over a good drink.
What's one thing you can't live without?
My bike. I love the freedom and exposure to fresh air that bikes give you. And they also help shed those calories from eating all those delicious donuts.
Thank you Sean! Want to find out more about what it's like to work at DragonSpears? Visit our careers page to see the roles we currently have open, and check out our blog for more information about all the great people who work here and the thought leadership they put forward!